English
Professional translation services
Alla Lettera Ltd is a company specialising in Finnish-English-Finnish translation. We are experts in technical subjects and patent applications.
We have sound experience in translations relating to vehicles, computers and office equipment. Our translated patent applications have dealt with such wide ranging subjects as mechanics, machinery, engineering, mobile technology and wireless data transfer. In addition, we have supplied translations on economics and the environment.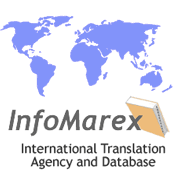 For further information, please contact
Ms. Jaana Hokkanen
Contact details
Alla Lettera Ltd
Ukonkivenpolku 2 E 39
FI-01610 Vantaa
Finland
t. +358 40 828 2380
e.
info@allalettera.fi